Terms of Service
× Commissioned pieces are for personal use only, not commercial.
× I only work with SFW pieces.
× Except for chibis, I only work with females.
× I do not work with furries(¹), mecha, or anthro. I don't draw animals either.
× You can share your commissioned piece on your social media as long as you don't erase or cut my watermark.
× Credit with a link back to any of my sns is appreciated but not obligatory.
× I upload every commissioned piece I make to my sns. If you're not comfortable with that, please let me know!
× Neither partial or complete edition of my work is authorized.
× I hold the rights to refuse taking a commission if I see it fit to do so for personal reasons.
(¹) Except for chibi icons. Furries are OK in that case.
☆ Before ordering, keep in mind:
× Every work will be handled at 350dpi resolution and in a 1800x1800px canvas minimum.
× Sketch and chibi commissions may be on a smaller canvas.
× I only start working after a 50% upfront payment.
× If after several corrections on the sketch phase you are still not happy with the results, you can get a 85% refund of that 50% you already paid. [IE you paid 10 and you get 8.50 back]
× After you give me the okay to start the lineart process, any modification will have an additional fee of $2 up to $10
× Once the lineart process has begun, you are not eligible for a refund.
× Once the piece is completed, you'll receive a small, heavy watermarked version. Once you pay the final 50% of the price, you'll have the original clean file.
Regular Commissions
× Additional characters are 75% extra. (Two interacting characters on full body would be 44$ (25+19), for example)

× Background can be solid color, simple pattern (stripes, dots, etc), gradient, or transparent. Little additions like flowers or gems/crystals are okay, too.

× Simple landscape background: base price of $10 USD, may go higher depending on what you're looking for.
Prices
Chibi Commissions
× Couples or interacting characters are 15$ USD total (instead of 18$)

× Background can be solid color, shapes as the above examples, transparent, gradient, or simple patterns.

× I do not work with other type of backgrounds for chibis.

× For chibis I do work with male characters!

× For chibi icons I do work with furries!
Prices
Terms of Use
× You can do whatever you wish with the adoptable you're getting!
× Don't claim the design as your own.
× You're allowed to make any changes you wish.
× You're allowed to use the picture of the adoptable you get on your desired websites but don't erase my watermark please!
× No credits are necessary (but they're always appreciated!)
× If crediting, please link back to this site!
× Please don't resell for a higher price than what you paid for originally! (This doesn't count additional art that you have of the adoptable)
Clicking on the picture will lead you to my KoFi or my YCH profile!
Contact Info
☆ For commission inquiries please refer to any of my social media listed on the About page.

☆ Preferred social media for contact is Discord, Instagram or Twitter.
☆ Any business emails should be directed to [email protected]
Commissions are currently closed!
Thank you for your interest ♥
Emergency commissions
☆ Sales are always paid 100% upfront.
☆ Sales are not eligible for refunds.
☆ All other regular T.O.S apply to sales.
☆ Please do not inquire about a sale if you're not willing to follow these rules.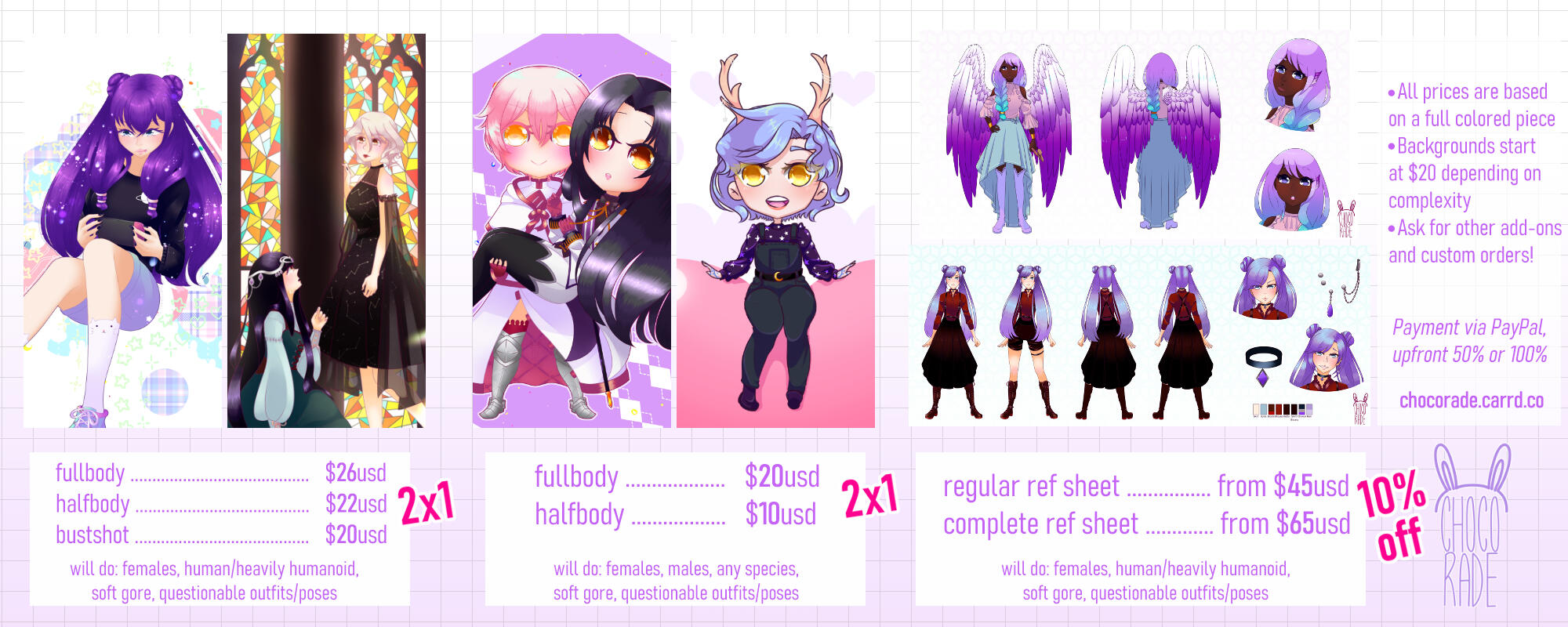 ☆ Soft shading fullbody ~ $20 USD | Soft shading halfbody ~ $15 USD ☆
I'm opening emergency commissions as I need to raise money in order to buy a new oven for our household, we literally have only a tiny alcohol stove so... yeah;;;